Sonic 3 + Sonic & Knuckles "Boss Guide"
Snowboards, icy caves, and other things designed to leave you cold! We must be in the IceCap Zone!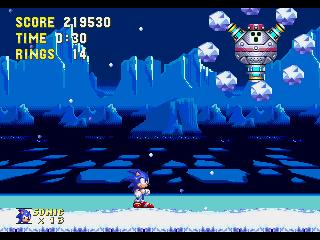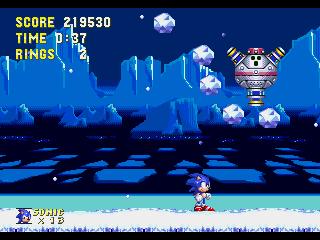 ACT 1 BOSS:
Looks like this 'bot wants to start a snowball fight...
This one moves across the screen in a V-shaped pattern. It will pause in an upper corner to gather snow, make snowballs, and hurl the fresh snowballs down at whichever character you're using.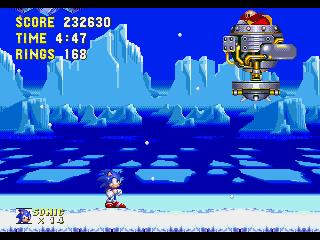 ACT 2 BOSS:
This machine tries to turn ya into a popcicle...
When Robotnik first enters, the bottom platform drops down and freezing mist shoots out in one of three directions: left, right, or down.
KNUCKLES: Same deal, except the bottom platform moves up and down, thus making it more difficult to land a clean hit.