MoKat's Sonic Images Collection
---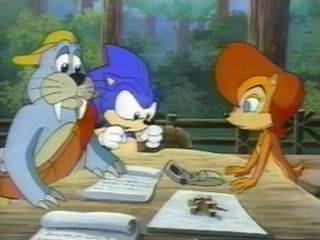 Sonic the Hedgehog, Dr. Robotnik, etc. and all associated characters are the property of Sega and are used here without permission. No infringement is intended and I am NOT making any money off of this usage. I'm doing this just for fun & for the amusement of other fans of Sonic and the Freedom Fighters. Please do not send lawyers and buzzbombers after me! I'm not worth it !! REALLY!!!
---

I didn't make these! I just think they are cool, weird, or both :)
---
Sonic Screen Shots & Sega's Artwork:
Screen Captures from Sonic the Hedgehog (Saturday morning show in the U.S.):
Screen Captures from Adventures of Sonic the Hedgehog (weekday show in the U.S.):
Other Images
My Knuxie: Photo of my Knux figure (lousy resolution--blame it on the digital camera I borrowed ;p)
Toyfare Mug Shot: Knuckles pics & info. from the August 2000 issue of Toyfare.
---
Scans from Archie Comics' Sonic the Hedgehog series:
---

Special: Sonic CD for PC Kollection I decided to put all the Sonic CD images on a separate page.

---
<--- To MoKat's Sonic Corner
---